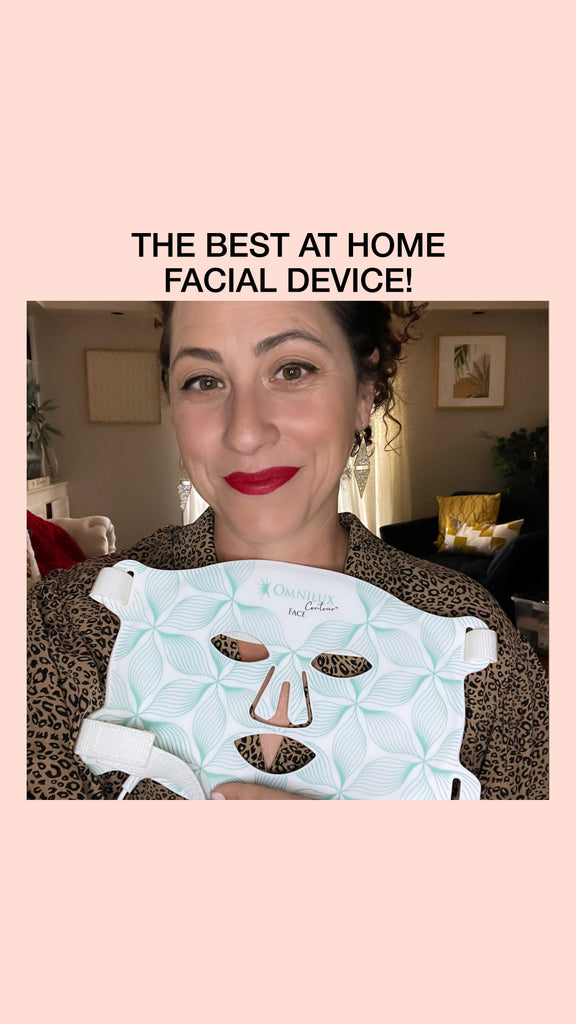 I recently shared how I repaired my dull dry skin after traveling, (you can read that post here), and I had so many clients reach out about the Red Light mask I shared. Some of the questions I received: 
 How Does It Work?
When do you see a difference?
I have been a fan of Red Light therapy for a long time. When I was treating skin we used the professional version of the Omnilux brand and saw amazing results. Not only with my clients but with my own skin.
Years later when I decided to purchase my own at home version of the mask I knew I would be choosing Omnilux brand, because the are the leaders of this technology with FDA approval and studies backing their claims. 
How Does it Work?
From Omnilux, the red light reduces inflammation, pigmentation, and redness and helps prompt cellular repair and circulation for a more vibrant complexion. Near-infrared targets deeper fibroblast cells, stimulating new collagen and elastin production, resulting in plumper, firmer, more youthful looking skin.
Using this mask I noticed my skin was firmer looking and softer to the touch. 
When do you see a difference?
For me personally I felt my skin looking firmer after a week. Here are the results from the clinical trials from Omnilux, they are incredible: 
Contour Clinical Study results:
98% of users felt their skin was firmer after 3 treatments per week for 4 weeks 
96% of users felt their fine lines appeared less visible after 3 treatments per week for 4 weeks 
95% of users felt their skin was brighter and plumper after 3 treatments per week for 4 weeks
I love to incorporate this technology into my skincare routine to enhance my products. I love that it is non-invasive and so easy to use and see results. 
If you have any questions about this mask you can let me know in the comments. Omnilux has extended a discount to my community when you click this link  and enter SJ10 at checkout! 
If you are looking extra help with firming and brightening your skin this is the at home treatment device for you!