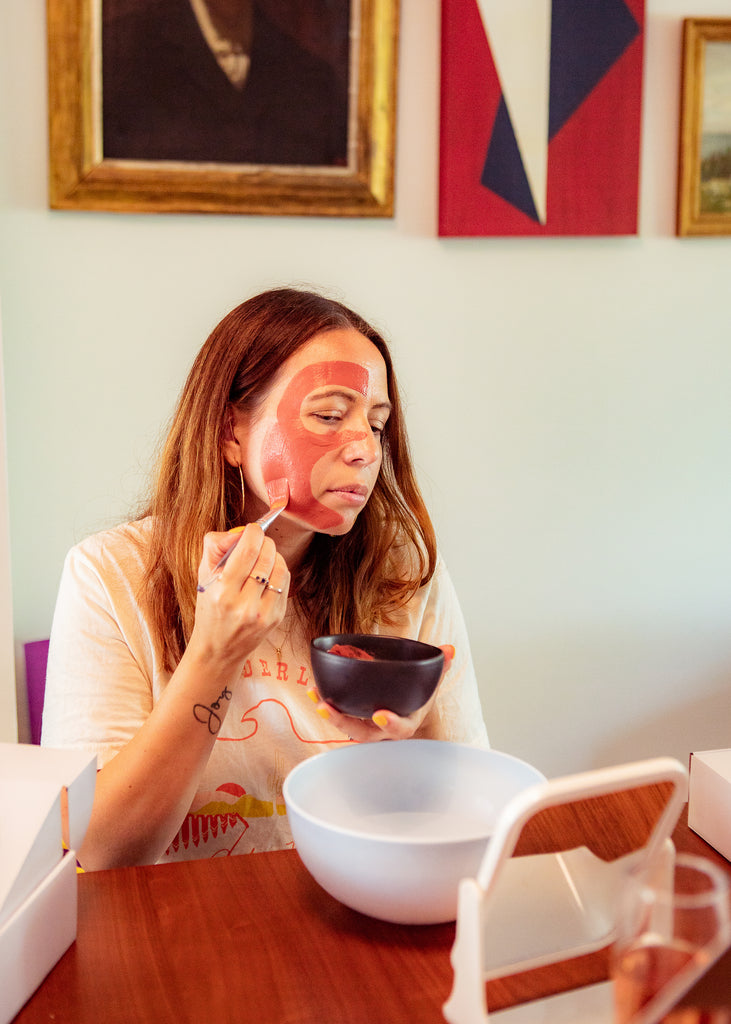 We recently returned from a trip to the Arizona desert after a week away. As a dry skin type, the extra dryness from the desert really did a number on my skin. Along with the climate difference, I also was eating foods I don't normally eat (hello pumpkin cheesecake) and sleep wasn't as good. 
These are the fun facts that go along with travel many times. And it can take a toll on the skin. After a full day of getting laundry sorted and cleaning up I took a look at my skin and saw a dehydrated mess. I took some time to fix that and I am going to share just what I did here on this post. My skin is back to normal and glowing again, YES! 
Step 1- Mask/exfoliate! 
I used our RENEW watermelon mask for 10 minutes, while I waited I spritzed the REPAIR toner to keep it damp. 
Step 2- Hair Mask
My hair was dry and needed a pick me up. I applied a hair mask for 10 minutes by Pattern Beauty.
Step 3- RED light! 
I am a huge fan of the LED red light masks to stimulate collagen. My favorite is the Omnilux led therapy mask because they are the leaders in the science behind red light.  I to use it to boost collagen. 
Step 4- Eye Masks
My eye area needed a pick me up so I used our SMOOTH under eye masks for 10 minutes and it was just what I needed! 
Step 5- GUA SHA
Facial gua sha helps lift and firm the skin, while helping product penetrate. I applied a generous amount of our REBOOT restorative oil and spent 5 minutes with my Gua Sha. If you want to see a short video on Gua Sha 101, click here. 
These steps really made a difference and I felt back to normal after! Are you traveling this holiday season? I would love to hear how you treat your skin while away and upon your return! 
Thank you for reading, we are 
Simply Jess Skincare
, a female owned, local business serving women in Orange County to meet their glowing skin goals. Check out our 
shop page

 
to read about our top sellers our clients are raving about!