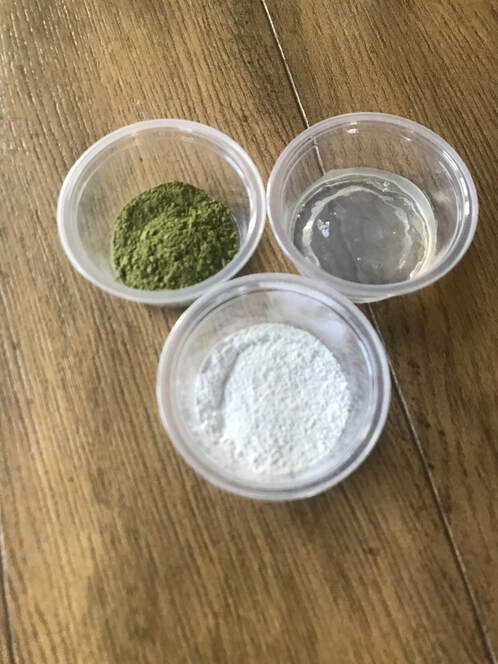 If you have a great daily skin care regimen and you are ready to add in the extras, a facial mask is a great way to boost your skin health! I like to suggest a mask once a week and it is best paired with exfoliation right before. I love to do this on nights where I want to incorporate some self care with a bath and candles! 
There are different masks for different skin types so ask yourself what your biggest skin concerns are and find a mask to help with it. For example, acne skin benefits from a mud, dry skin can benefit from a cream mask that delivers hydration and nourishment. Sheet masks are everywhere now and are pretty good for any skin type. The time to leave a 
mask on depends on the mask itself but they are typically left on for 10-15 minutes. 
I have been testing DIY masks you can apply at home with basic ingredients you can buy at any health food store (or Amazon). I love the end results of each of them! Below you can find the recipes and the ideal skin type for each: 
Kaolin Clay Mask
Kaolin clay is amazing for absorbing excess oil and refining the skin making it ideal for an oily skin type. I have also included tea tree which is antiseptic and great for acne.

Recipe: 

1/2 tablespoon kaolin clay
1 drop tea tree oil
1 teaspoon of REPAIR toner (or regular water if you dont have the toner.)
Mix together with a facial brush and apply. Leave on for 10 minutes. 

Aloe Vera and Vitamin E
Sensitive/Dehydrated Skin
Aloe vera gel is a wonder ingredient. It is soothing, calming, great for burns and redness. This is also a super refreshing mask that you can even put in the refrigerator to have a cooling effect. 

Recipe: 

1 Tablespoon Aloe Vera Gel 
1 drop of Lavender oil
​1 teaspoon of vitamin e
Mix together with a facial brush and apply. Leave on for 10 minutes. Match and Rice Bran Oil 
Dry/Anti-aging Concerns/Dull
I have been loving drinking Matcha tea as of late and the health benefits are inside and out for the skin! Matcha is a great anti-aging topical ingredient because of the brightening and slightly exfoliating effect. Adding an oil gives extra nourishment and hydration for a skin that is lacking in oil.  (Picture below is the Matcha Mask!) 
Recipe: 

1/2 Tablespoon Matcha powder
1 teaspoon Rice Bran oil (or olive if you don't have the rice bran oil)
1/2 teaspoon of water (or REPAIR toner)
Mix together with a facial brush and apply. Leave on for 10 minutes. 
​I would love to hear if you try any of these masks! They only take a minute to put together and add a little pampering to your routine.