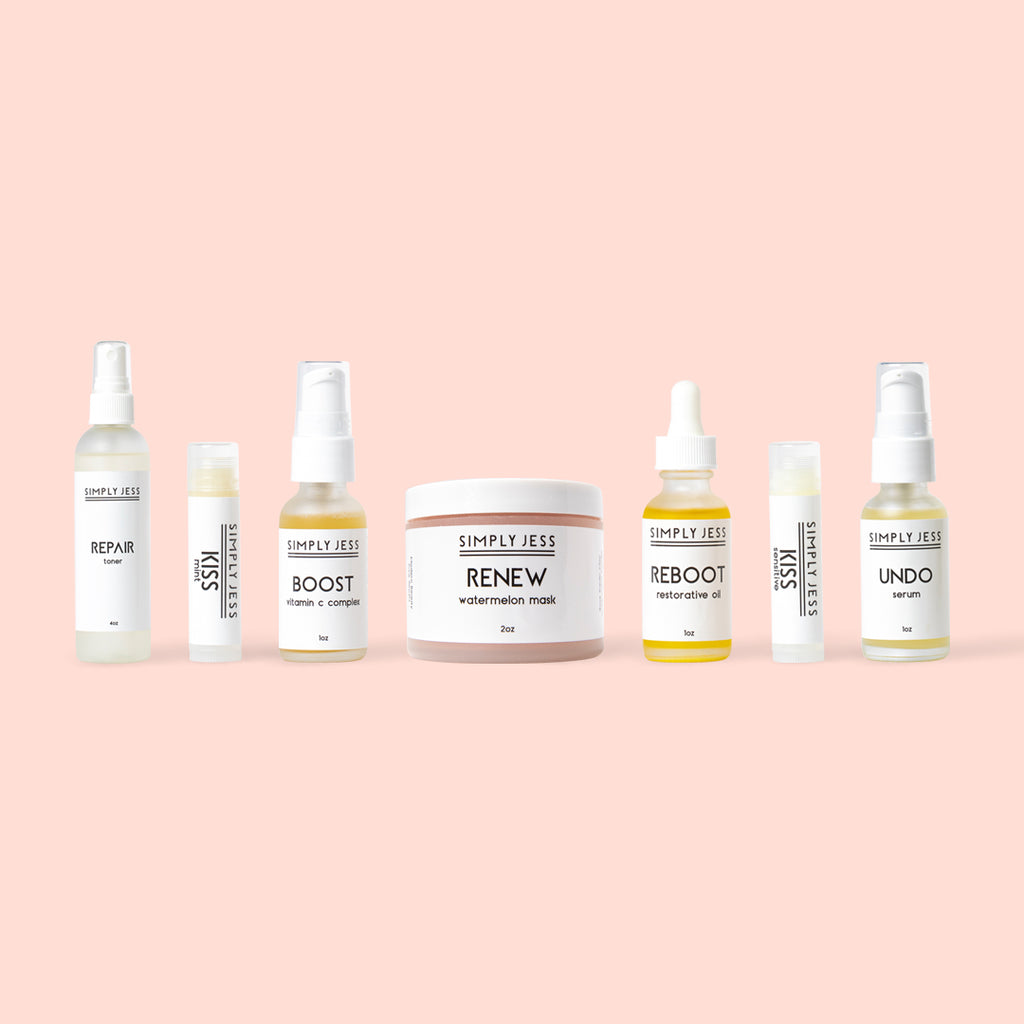 With the holidays coming it is the perfect time to share some amazing holiday gift ideas for local moms in Orange County, CA such as Laguna Beach, San Juan Capistrano and Irvine! Many of these gift ideas are also great for moms everywhere because you can buy online.
Whether for a fellow mom, family member or you treating yourself,  here are a few favorite gifts that we love for gift giving! 
This is my favorite hand soap bottle, I have it in my bathrooms. I refill mine with another hand soap when it runs out but it is my favorite glass bottle.  I get mine on amazon it is linked above. 
This is our most popular gift giving kit in Simply Jess! The TREATMENT at-home facial kit is everything you need for an at home facial in a box. Created during lockdown, this 5 piece kit delivers, softer, smoother looking skin and relaxation! This is the perfect gift for mom, self care and healthy skin! 
ANSHI is a mom founded small business we love! We also love the all natural products that make a positive impact on the skin. To shop my new favorite rub, the Soothing Lavender, you need to act fast because this is a limited time scrub.
My personal favorite way to use this product is in a nice hot bath at the end of the day! Shop here for ANSHI
Speaking of mom founded and owned, Nikki Carlson is the creator of Hype & Tone, an amazing fitness program that works the entire body. I recently discovered her fitness classes and was instantly hooked!
If there is one thing many moms in Orange County enjoy, it is a great workout! Nikki offers online classes available every week to take your workout to the next level wherever you are! Check out her website and think of giving the gift of fitness and health! *the first week is free! 
Colorfulkoala Women's Buttery Soft High Waisted Yoga Pants Full-Length Leggings (M, Black)
We can't talk about our favorite workout program without talking about leggings! Whether you work out in them or like to lounge in them (I am a fan of both!), leggings are always popular for moms! If you are looking for a gift that won't break the bank, this brand Colorfulkoala is for you. These leggings are super soft and ultra high waisted. They also have a bunch of fun colors to choose from. Check them out here on Amazon.
Brunch'n in the OC! 
Brunch is loved by many moms and we are lucky in Orange County to have so many options for fabulous restaurants! Locale magazine has taken the guess work out of finding the best spots with this list, click here to read! Gifting a gift card to one of these hot spots is sure to be a winning gift! 
One I have not tried but that looks amazing is AbhA in Laguna Beach, who wants to come with me! 
When we went to the local mountains and stayed in the city of
Idyllwild
, we loved visiting
Wildland Organic
. The store carries many beautifully and sustainably made products. Along with this soap dish we also took home beautiful candles, you can check out their
online shop here
. 
That is our round up for gifts moms in Orange County are sure to enjoy!  What did I miss? Please share below your favorite gifts you love to give (or receive!) Let's share the fun! 
Thank you for reading, we are Simply Jess Skincare, a female owned, local business serving women in Orange County reach their glowing skin goals. Check out our shop page to read about our top sellers our clients are raving about!