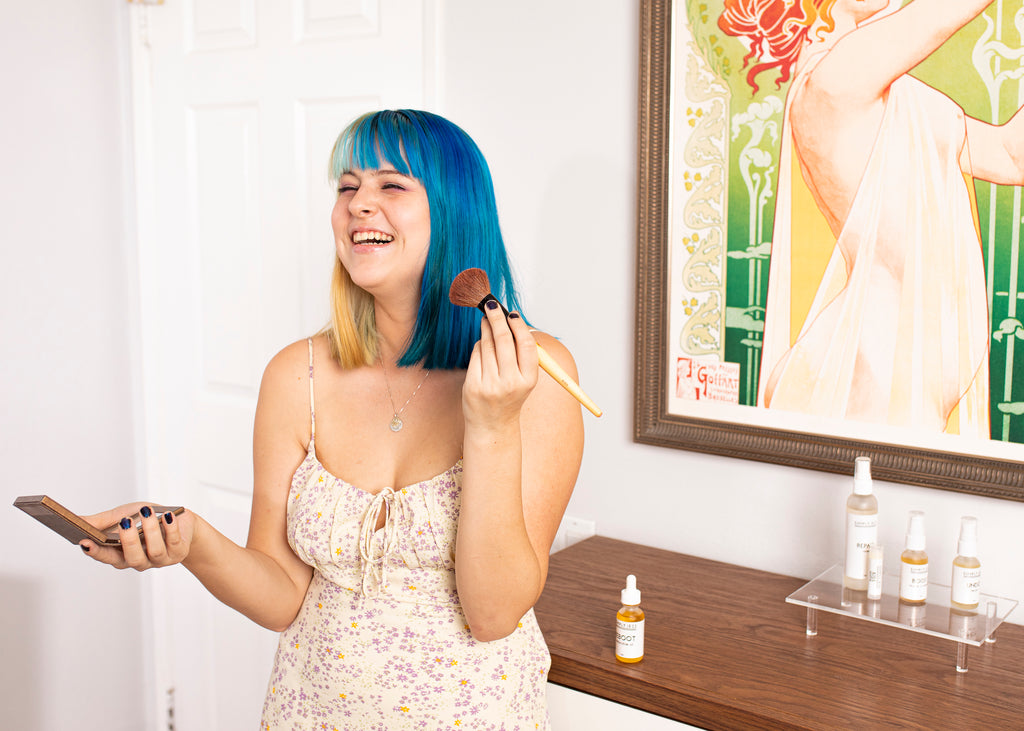 I began my career in beauty in the cosmetics world. I worked for Chanel cosmetics and Prescriptives (*anyone remember that brand??).
I quickly learned I was much more interested in how we treat the skin under the makeup than the makeup!
When I was working in cosmetics we were concerned with covering up, applying heavy makeup and had little thought to what we used underneath. The cosmetic skin care we sold was heavily fragranced and had artificial coloring. Many of my clients were having terrible breakouts and reactions. 
After getting into professional skincare, I learned that we can treat the skin and keep it healthy. That is the first step in helping our makeup look its best!
Today we are going to talk about
what helps our makeup look its best
tricks to prevent breakouts with makeup use
what skin care products work best with makeup application
Our makeup looks the best when we have hydrated skin without dry patches. The key to this is using hydrating products to help smooth and nourish the skin.  
UNDO serum 
Hyaluronic Acid helps deeply hydrate and plump out fine lines and wrinkles. 
Smoothes the skin and helps foundation application look amazing. 
Anti-inflammatory ingredients soothe and minimize redness  
REBOOT restorative oil
Gives the skin a glowy appearance and looks beautiful under makeup.
Rosehip seed oil helps brighten the skin tone
Medium weight formula is not too heavy underneath foundation or powder.
Washing your skin:
Skin doesn't need to breathe, this is a myth. Not wearing makeup for this reason isn't necessary, but making sure you wash it off at the end of the day is!
It's best to use a cleanser to remove makeup and not a facial cleansing wipe. Although it won't hurt once in a while,  it just doesn't fully remove makeup. We don't want to leave any makeup on the skin that could cause clogged pores or breakouts.
Washing your skin before you apply your nightly serums helps you get the most out of your products. If you have a hard time right before bed getting washing your skin, try washing it in the evening before you get too tired. 
Makeup brushes
Don't forget to wash your makeup brushes to avoid problems such as clogged pores on the skin.
Best practices are a once a week deep clean and some recommend a spray to clean them after each use. This is especially helpful if you are acne prone.
SPF in Makeup, is this enough protection? 
While I love the idea of wearing a foundation with an SPF, it is NOT enough protection. Using your SPF under makeup will ensure you are protected and if your makeup has a SPF too, even better!
After Makeup is applied use REPAIR toner to set it! 
 Setting your makeup ensures: 
Longer lasting application
Hydrated looking skin
Extra protection from the environment
I hope these tips and tricks when it comes to helping your makeup application look its best are helpful! Let me know if you still have questions!