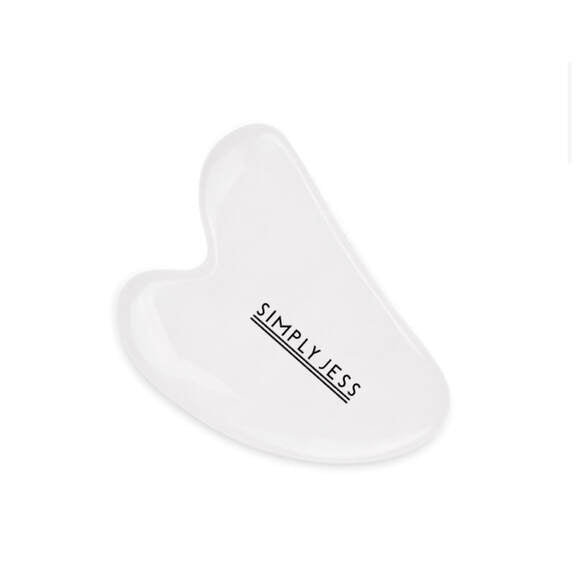 I am so excited to announce the Simply Jess White Jade Gua Sha! I have raved about this amazing tool for some time now and after using mine every day and seeing great results, it is now available to purchase in my store.

What it is:

​The gua sha is a tool that originated in eastern medicine, also called scraping or spooning. It helps move stagnant blood and generate movement in the lymph system which is helpful for immunity.  It is anti-inflammatory, can relieve jaw tension and is detoxifying.   Different practitioners such as physical therapists, massage therapists and acupuncturists can utilize these tools for the body and estheticians are able to incorporate this tool in the treatment room on the face. 

Benefits of Facial Gua Sha:

Using this tool on your face has so many benefits, I will highlight a few of them. The gua sha has a lifting and toning effect on the skin. It helps move and drain the lymph making it detoxifying. This can be helpful if you have puffiness because it helps with circulation. It helps minimize the lines on our neck and face. I also use gua sha when I have a headache and it's very helpful.

Home Use:

Learning how to use this tool on your own is super easy! Keeping the tool fairly flat, always use light strokes with the lymph system. I have step by step instructions on the shop page (link below) and a short video for your reference. This is a beginner video and I will have another one for those of you wanting to spend more time on this practice. Remember to always use on cleansed skin and apply a facial oil so the tool glides over the face easier.
But there is not one way to use this tool! Depending on what your concerns are you can spend more time in one area. For example, I like to focus on my forehead lines so I spend more time on my forehead than on my cheek area. This can be done in 5 minutes or 15 or longer, it just depends on what your goals are and how much time you want to dedicate. 

Contraindications:

If you have had botox or any fillers you are advised to wait a few weeks to gua sha. *ask your therapist for the wait times. If you have inflamed breakouts you will want to avoid those areas but treating the other areas can be helpful in the detox process. 
You may notice the skin turning red due to the boost in blood flow but you should never feel pain. This is a deeply relaxing practice and the more consistent you are with the tool the better results you will have.

I will have more information on how amazing the gua sha tool is for your skin care needs and am here to answer any questions! I know this may seem a little overwhelming or advanced because that was my thought when I first saw it. It has become a wonderful ritual for me personally. I have given myself the gift nightly gua sha massage and my skin has totally improved from this practice.  Do you currently use a gua sha tool? Have you seen an improvement in your skin?