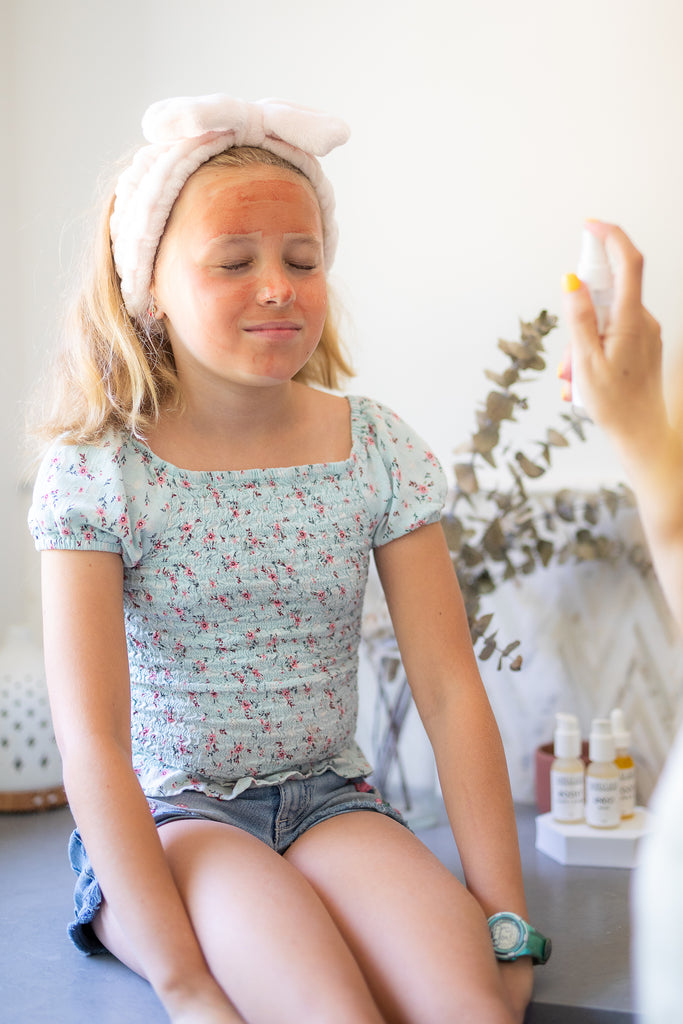 Tween skin is going through many changes and can be sensitive to harsh ingredients found in some skincare products. Using gentle ingredients is essential to minimize breakouts and keep your skin healthy. Here are some tips on how to take care of tween skin using simple and clean ingredients.

1. Start with a gentle cleanser to remove dirt, oil, and makeup. Look for products that are free from harsh chemicals like sulfates, parabens, and fragrances. Opt for a gentle cleanser. 
Cleansers I recommend: 

2. Toner: Do not use alcohol on the skin, watch out for toners that contain harsh ingredients.
Toner I recommend: REPAIR toner You can spritz on the skin after a shower and use it with a cotton pad as well. It is antibacterial but very gentle and hydrating. Great first product. 
**Moisturize: Use a lightweight oil or moisturizer to hydrate your skin IF necessary. Sometimes the skin is fine with a spritz of REPAIR toner and SPF for the day time. If the tween is not using harsh ingredients they should be pretty balanced and less is more at this age. 

3. Use a gentle exfoliator: Exfoliating once a week can help remove dead skin cells and prevent breakouts. Avoid harsh exfoliants that contain microbeads or abrasive particles that can damage your skin.
Click here for Exfoliation for tween/teen can be used on the trouble spots only.
4. Wear sunscreen: Try using a  mineral based SPF 
Protecting their skin from the sun's harmful UV rays is important to prevent sun damage, premature aging, and skin cancer. Look for a mineral-based sunscreen that contains zinc oxide or titanium dioxide, which are gentle and effective at blocking UV rays.
By using simple and clean ingredients, you can help your child's skin and minimize breakouts. I started very basic with my son and the results are incredible!
A few other tips! 
Teach them to disinfect their phones/devices if used by their face.
Avoid touching their face and remind them to wash their hands (a big one!) 
You can also try a teen facial at a spa to help get some extractions and a deep cleanse.
Regularly clean pillowcases
Spray REPAIR toner after sporting events or sweating if not showering right away.
I hope this helps, if you have questions send me a message below!