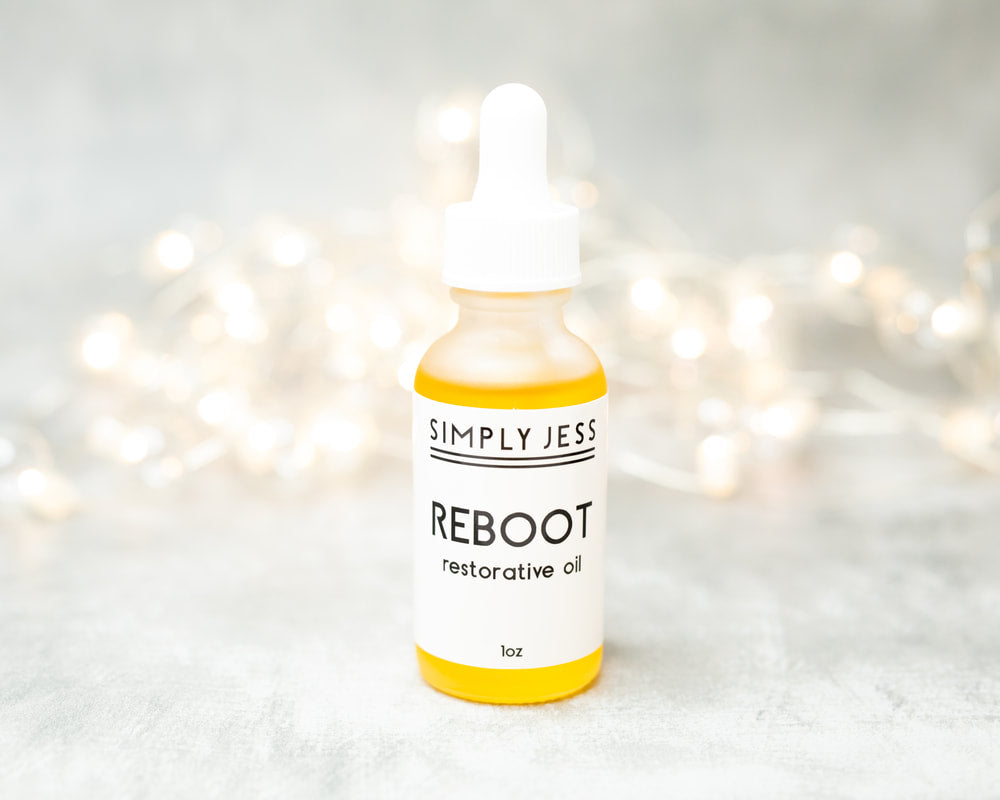 It is finally here! Our new facial product, REBOOT restorative oil, is launching today and we are so excited! This facial oil is here just in time to help nourish your skin this winter. If you have never used a facial oil, they are wonderful to restore the hydration and replenish balance in the skin. This is the time of year when are skin takes a hit from the cold and dry weather, dehydration from the heat constantly being on and stress of the holidays. All of these factors take a toll on our skin and REBOOT is a wonderful solution to this problem!

What does it do? 

Deeping nourishing oils are infused into the skin to promote repair of the skin and to REBOOT your hydration and suppleness. Fine lines are plumped and a natural glow is returned. REBOOT seals hydration in and protects your skins barrier. This product really delivers a luminous glow we are all looking for! These incredible oils are carefully blended to restore the glow in your skin and REBOOT it overnight.

What is in it?

Rosehip Seed Oil


Amazing for reducing hyperpigmentation in scarring and helps to regenerate damaged skin cells.
Repairing 
Jojoba Oil
High in Vitamin E and B and mineral rich.
Plumps the skin and easily penetrated.
Anti-inflammatory

Moisturizing without being greasy
​
Grapeseed Oil
Soothes redness.
Great for pigmentation and brightening.
Powerful antioxidant
Carrot Seed Oil
Antioxidant 
Nourish tighten rejuvenate.
Improves skin tone
How do you use it? 
REBOOT restorative oil was designed for nighttime use so the oils can help reboot your skin overnight while skin cells are recharging. You can add a few drops to your moisturizer or serums or use it on its own. For oily t-zone and combo skin you can spot treat it on the spots where you lack hydration. 
For the most amazing night time routine add the 
Simply Jess Gua Sha
 to your regimen. This tool is meant to be used with an oil to see the best results! 
Who is it for? 
Normal, dehydrated and drier skin types with anti-aging concerns. If you have
 very oily skin this product is not for you unless you are experiencing a change in your skin due to environmental or hormonal reasons. If you are unsure if this product is for you please ask us! 
We are so excited to share this new oil with you, we are obsessed! 
REBOOT smoother looking skin
REBOOT your moisture levels
REBOOT suppleness in the skin