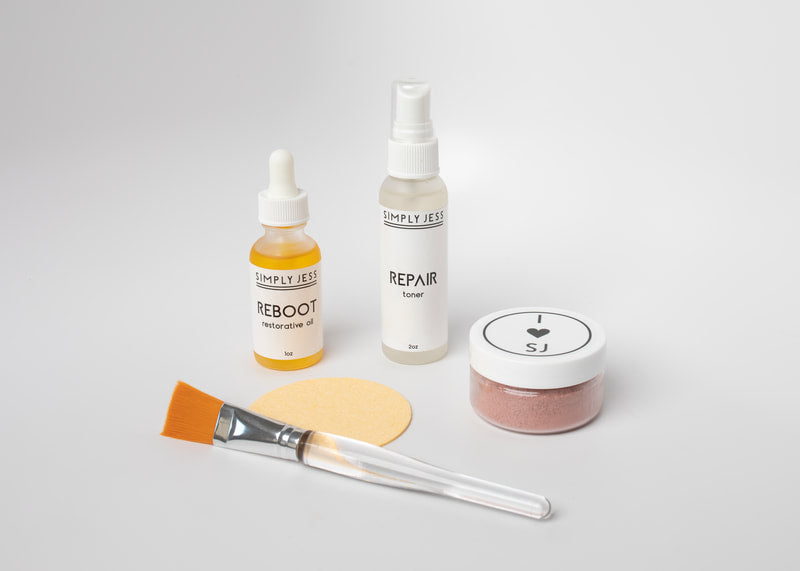 Treat yourself with our all new facial kit! We have included everything  you need to have the spa experience in the comfort of your own home. This kit was born out of need for skin care solutions while many of us are not able to get in for spa treatments due to Covid. Now with the added hassles of daily mask usage and stress-inducing breakouts, we need to treat our skin more than ever. Pampering and self care has been something we have been talking about this year and this kit is an amazing way to get it in! 
What is included:
Dual-acting mask-Watermelon and rose clay
Travel Size REPAIR toner 2 oz
FULL SIZE REBOOT restorative oil 1 oz
Facial mask brush
Facial Spa Sponge
Kit Card- how to and pressure point massage instrucitons 
Our all new mask is activated with our REPAIR toner and applied with the soft mask brush. It is lightly exfoliating and helps draw out impurities without drying out the skin. Removal of the mask is easy with your facial sponge and toner. The REBOOT restorative oil is then applied to soothe, hydrate and act as a massage oil for the next step of pressure point massage. 
You can watch the video to see everything included in the kit and also how to give yourself a pressure point massage by clicking on the TREATMENT link below. This makes the perfect holiday gift, it is a wonderful way to give someone you love the gift of self care and beautiful skin!