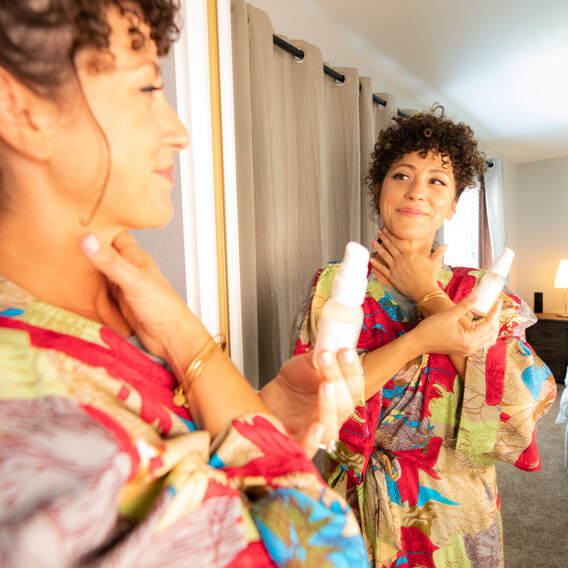 One of the most common mistakes I see my clients making is not exfoliating! Today I am offering an exfoliation 101 to explain this step that I often recommend for my clients. When they are not getting the results they are looking for with their skin, a lot of times it is because they are not regularly exfoliating. And if you are not taking this step with your skin care regimen I will be highlighting some of the reasons why you might want to consider it. 
What Is Exfoliation?
Exfoliation is the removal of dead skin cells on the skins surface.  Typically the skin sheds dead skin cells in a cycle of 30 days or so. As we age this process slows down and we accumulate dead skin cells on the surface of the skin. Through exfoliation we are able to help this natural process along.
Why should we exfoliate? 
So what's the big deal about a buildup of dead skin cells? This can have a negative impact on the skin for a few reasons. It can lead to dryness, flakiness and clogged pores and breakouts. Another reason we want to exfoliate the skin and remove the dead cells is so your skincare can penetrate deeper into the skin. If that top layer is exfoliated off, your potent serums and moisturizers can actually do their job and absorb properly into the skin.
What are the different types of exfoliation? 
The two types of exfoliation we can do at home are physical and chemical. A physical exfoliator is something that has manual exfoliating properties like a 

scrub with granules. It can even be using a tool like a dry brush or loofah on the body to slough off the dead skin. 
A chemical exfoliator uses enzymes, acids or other ingredients that remove the dead skin through dissolving the dead skin where physical exfoliation manually scrubs the excess dead cells. 
How often?
This question I get a lot, it really depends on which exfoliator you use. The typical exfoliator for home use generally recommends 1-2 times a week but I have used exfoliators that are made for daily use. Read your instructions! Most clients are not exfoliating enough, but I have seen people over do it and it can have a negative effect on your skin, making it sensitive. 
When should I do this? 
This step should be performed at night. Because of the shedding of dead skin cells, the skin is more vulnerable to sunlight damage. The day after exfoliating make sure to wear a sun protection.
In what order do I exfoliate? 
Another common question! First you cleanse and toner your skin and then you exfoliate. After you remove the exfoliator you can apply a mask if you are looking for a at home facial experience or go straight into your nightly serums and hydrators. 
What do I look for in an exfoliator? 
Personally I am not a huge fan or physical exfoliation. I have seen sensitive clients have a reaction from scrubbing too much and damaging the skin. I also don't think they work as well as a chemical exfoliation. I love ingredients like alpha hydroxy acids (or AHA's) and also enzymes which work as little pac-men eating up the dead skin cells. Coming up with an exfoliator is a high priority for Simply Jess as we expand the line because I want to offer a product that uses clean ingredients but is also super effective. SO stay tuned for upcoming product launches! 
As always, leave me any questions you have about exfoliation or the skin in general. Another great way to get a deeper exfoliation is to get a professional treatment where they have access to stronger peels that can make an even bigger difference. Don't forget your facial treatments! 
Do you exfoliate on the regular?