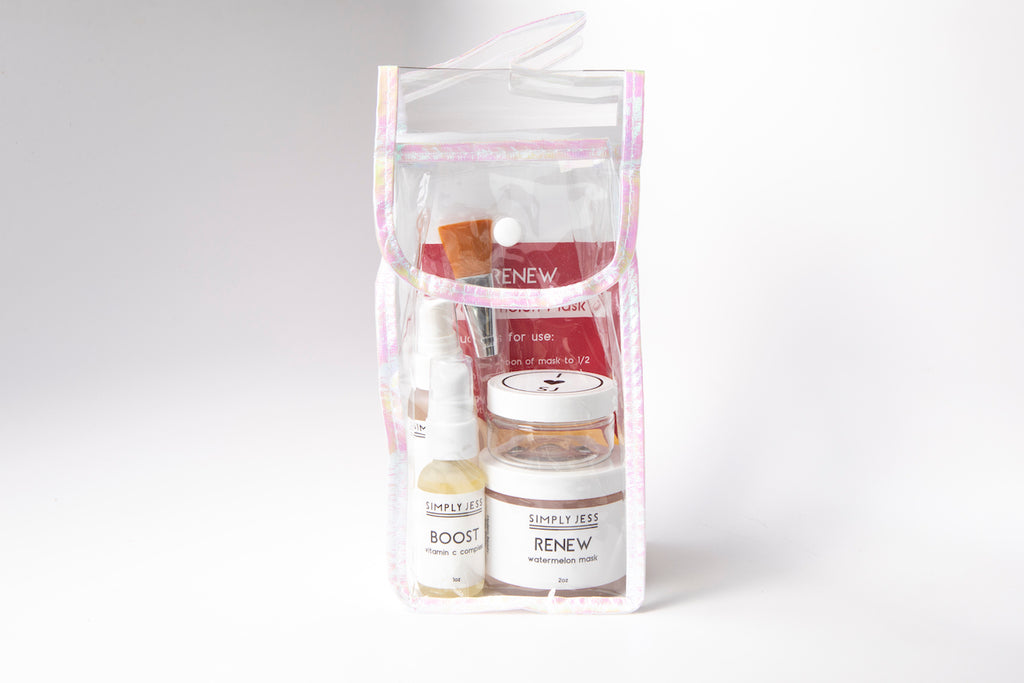 Our brand new BALANCE kit has launched! This kit is an amazing collection of products and tools to help you achieve balance for your skin. What are we tackling with this collection?
Balance oily skin
Helps combat breakouts and "maskne"
Brightens and Hydrates
BALANCE kit features our brand new mask RENEW watermelon mask and my clients are raving about it! 
A must have
This whole kit is not only amazing value, but it contains one of my new favorites - the watermelon mask. It is incredible! Leaves your skin even-toned, bright and so, so fresh! Truly a must-have. When used regularly, it hugely improves your skin. I have super-sensitive skin and this does not irritate it in the least. My pores look smaller. It also smells so good! Love, love! Keep coming out with new wonderful products, Simply Jess ♥
WHATS INSIDE:
This is a 6 piece collection inside of an adorable bag! 
BOOST vitamin c complex
REPAIR toner
RENEW watermelon mask (BRAND NEW)
Mask Brush
Wooden scoop
Bowl to mix and activate mask
WHO IS IT FOR:
Skin Types and Concerns-Oily, Combination, Dehydrated, Acne-prone, Hyperpigmentation, Dull Looking Skin, Fine Lines Concerns
This kit is a LIMITED edition! When they sell out it will not be coming back. 
It makes a perfect gift as well, if you are looking for a Mother's Day gift for your loved ones or yourself, this is it!