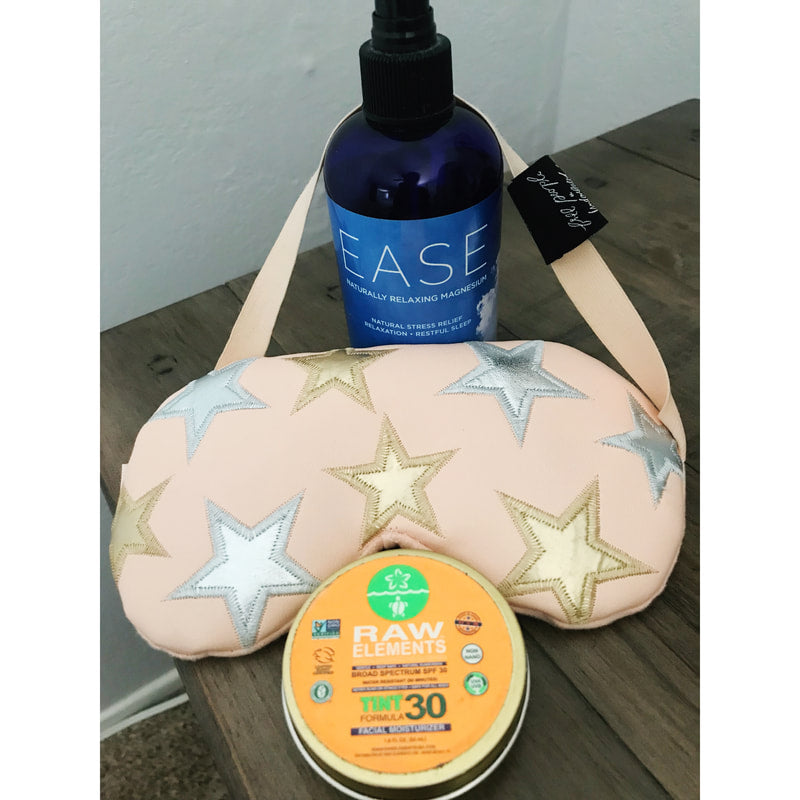 Now that we are officially in the holiday mode I want to share some of my favorite travel essentials since many people travel this time of year. These are items that keep my life simple, my skin hydrated and my sleep regular! 
1. Sleep Accessories! 
If I don't have my sleep right I will not have the glowing skin I want. It is the most important thing!
I have become more picky over the years with my sleep environment and now I like to bring a few things with me when I travel. My pillow is key and another thing I have also started to bring is my beloved eye pillow. I need it dark when I sleep and I love this one from Free People (pictured above).
I also love to spray this
Magnesium spray from EASE
, to replenish magnesium in my body. When that is at a decent level stress is reduced and sleep enhanced. I love to do this right on my chest each night when I lay down. 
2. Two for One Products
I like to pack light so I try not to overpack my cosmetic bag. I use a tinted moisturizer with an SPF for my face and I use that for my foundation during the day. I also love travel sizes when flying so I don't have to check my bag. I love this one from
Raw Elements, 
 it has super clean ingredients and great protection from the sun. 
3. Items to Hydrate
The more hydrated your body is the more beautiful your skin will be! I love to take electrolytes every day in my water to keep me super hydrated and replenished. These
NUUN tablets

 
are small and portable and you take one tablet in your water. They taste great too, I love the tri berry flavor. 
We go to the desert each winter and I get insanely dry the minute I arrive. I keep the REPAIR toner by my side and use it through out the day just to keep my skin feeling normal. It is now in a travel size so it can come on board the plane. Which is the perfect time to spritz away as the moisture gets zapped out of the skin on flights. The lavender scent can keep the stress at bay from how chaotic the holidays can get!  Check out more of the benefits here,
REPAIR toner 
​