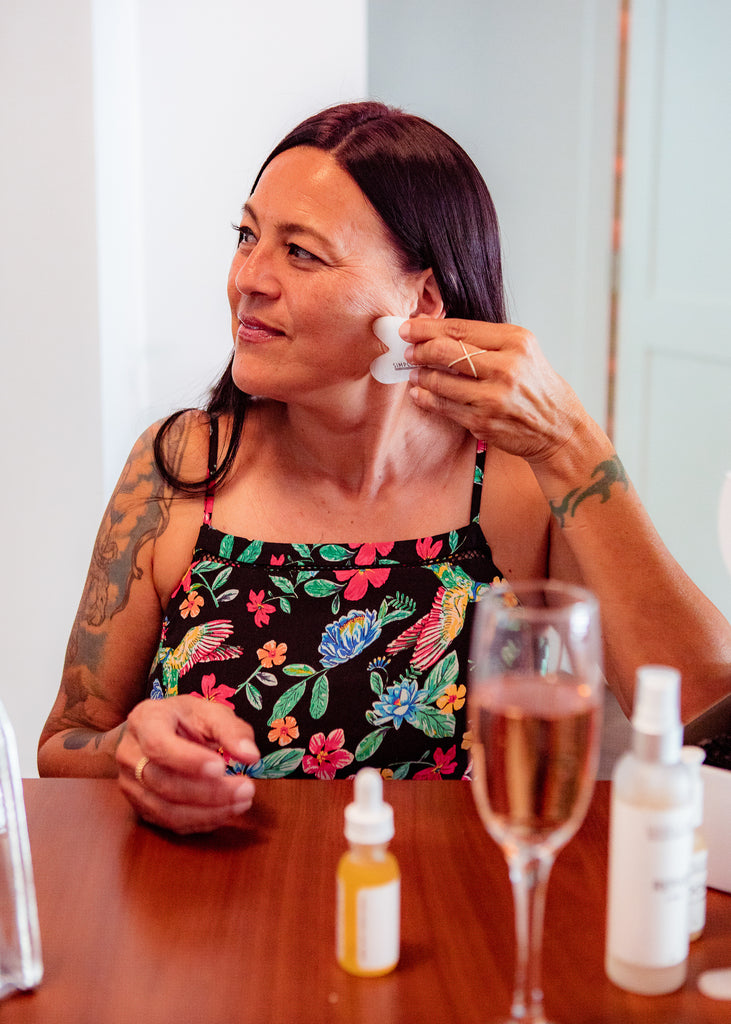 When I was first introduced to the gua sha stone I was a little intimidated. I was performing facials at the time and using a jade roller which I loved. I took one look at the gua sha and was not sure about it. But I gave it a try anyway. I immediately fell in love with the tool! I was using it on my clients and couldn't believe the difference it was making on their skin. I was hooked. 
I wanted to share these results with my clients and get them to use this tool at home. There were so many benefits! The lifting and toning I was seeing in my own face was more impressive than my expensive micro-current at home device that cost hundreds of dollars. 
The gua sha became my new nightly ritual and not only was my skin improving but it was relaxing and my new favorite way to self care. 
This amazing facial tool is newer to the West but has been a part of Chinese medicine for thousands of years. Gua sha is used on the body to rid the body of toxins and move the lymph. The tool can be a spoon, a lid or other smooth tools. In Chinese medicine using a gua sha helps to move the qi or energy that runs through our body. When qi is stagnant can cause health issues and skin problems. 
BENEFITS to GUA SHA:
Lifting and firming the skin
Lymphatic drainage
Improves fine lines
Relaxation
You want to make sure you have an oil on the skin so the tool can glide easily. We recommend our REBOOT restorative oil before each use.
I know it can seem intimidating to try and use a tool like this at home, I was and I am an esthetician! But if you have one and it is just sitting in a drawer I do encourage you to get it out and play around with it! It is more simple to use than you think. 
When you purchase a Simply Jess White Jade Gua Sha, you receive easy to follow instructions and we also have many videos on our Instagram, handle is @simplyjessskincare
Would you try a facial Gua Sha?