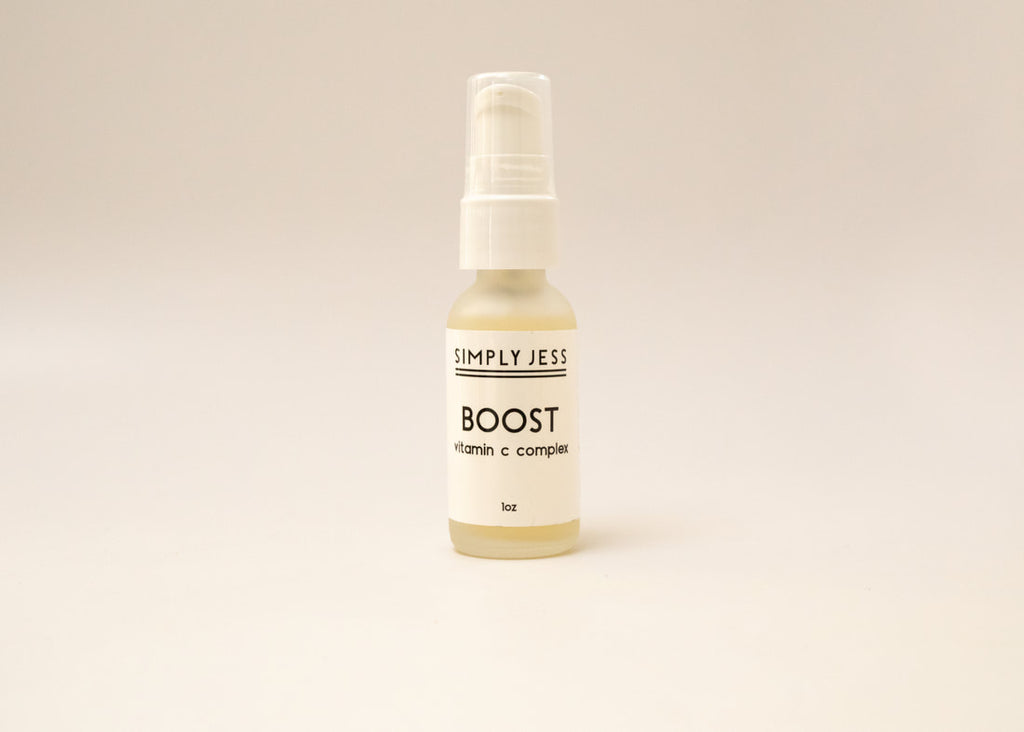 "I think this my be my favorite product yet. I love the fresh orangey smell, it absorbed quickly and has left my skin feeling soft and not greasy at all. Love it!!!"
Helen
Its time to give your skin care routine a BOOST! 
​I am thrilled to announce the latest and greatest product in Simply Jess! This addition to the line is so exciting because it is what I believe is an essential step in every skin care regimen. The new BOOST vitamin C complex is a light weight serum that delivers a powerful punch of antioxidants and anti-inflammatory ingredients. As ALWAYS this product is free from harmful ingredients such as parabens, fragrances and is 100% natural.
So what does it do?
BOOST collagen
BOOST your protection against free radical damage (ex sun)
BOOST your natural glow 
BOOST smooth looking skin
Key Ingredients
​
Vitamin C 
Amazing for UV protection 
Boosts collagen
Skin brightening 
Potent antioxidant
Fruit Acid Mix
Sheds dullness
Moisturizing
Decreases the appearance of wrinkles
Perfect for problem skin
Organic Lemon Juice Powder
Potent Antioxidant
High in Vitamins A, B and C
Skin Brightening super star
​Hyaluronic Acid
Binds moisture to the skin
Super hydrator 
Collagen Producer
It is lightweight and absorbs quickly making this a perfect addition to your day and night skin care routine. 
You're going to love it and I can't wait to hear what you think! I love the results I have been getting on my skin, its my new favorite addition to my line!
Ready to BOOST your skin? 
​