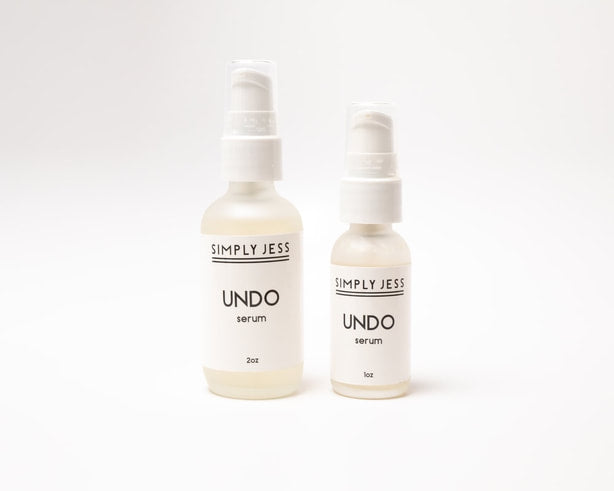 I was asked if my products help with acne. It is a great question. For now, Simply Jess skin care does not have acne treatments however the products in my line are a wonderful complement to acne products. Because of the dryness and irritation that can occur when using a product for an acne prone skin, using Simply Jess can reduce some of the side effects that can typically accompany harsher products.
The lightweight and super soothing UNDO serum is a great way to calm down the inflammation without it being heavy or clogging. Many of the ingredients such as Arnica, Aloe Vera and White Tea extract promote healing in the skin. While Hyaluronic acid and Coconut water infuse hydration without a heavy feel. There is a reason this is my number one seller, it can be used on basically every skin type! 
Many times I see people with extreme oiliness or acneic skin believing they have to strip the skin of any natural oils to get rid of breakouts. Many times what happens is the skin produces even more oil causing more breakouts and irritation. Below are some ideas to help with breakouts and oily skin:
Remember to wash your face every night.

 

Making sure to remove all traces of bacteria and makeup from the day is important but especially if you are prone to breakouts. 
Use your spot treatments at night. Using any type of treatment products at night will be more effective because the skin cells are regenerating at a faster rate than in the day time. And don't forget to not only use acne products but the products to help soothe and heal such as UNDO serum or REPAIR toner. I also love a great clay or mud mask because they are gentle but effective.
Blue and Red Light Treatments. There are many amazing treatments on the market for treating acne and oily skin. I love the blue light because it helps kill the acne causing bacteria that live in the skin. The red light promotes cellular turnover so the two work hand in hand while treating acne. I love this treatment because it is all natural and non-invasive. It can take some time because you need to go in for a series but I love the results I have seen. 
​
Do you suffer from acne breakouts? What have you seen that works?