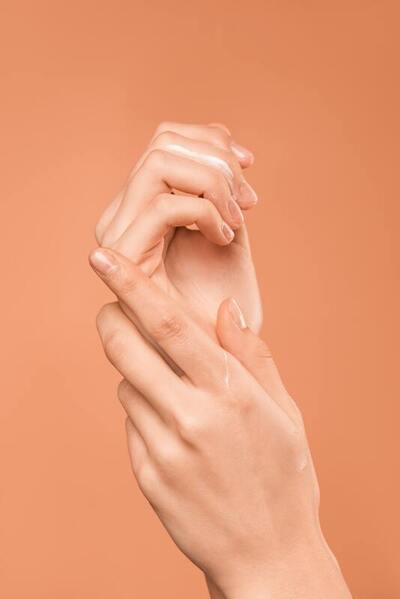 All of us are experiencing a new reality, where we are suddenly required to stay home. Some of you are moms with little ones that need you constantly and some of you are finding yourself bored in your home not knowing how to fill your time. I have spoken to people in both situations! 
As I am in my house more, I thought it would be fun to experiment with a few different products that are easy to make  and helpful for different issues I am having with my skin. My hands are SUPER dry and being in the house with the heater is causing more dryness overall. 
I shared a few recipes on Instagram and had such positive feedback that I thought I would share them here with you. I have heard of moms doing this with their girls and really enjoying it. My kids like measuring out the ingredients and mixing them all together. Each product can be made with simple pantry ingredients. Let me know if you try any of them and what you think of them! 
Honey Lip Scrub
1/2 Tablespoon honey
1/2 Tablespoon olive oil
​1/2 Tablespoon white sugar
Mix all ingredients together with a spoon. Apply and scrub this all over your lip area for a few minutes and wipe off. Follow up with your favorite lip balm.
Chamomile Hand Scrub
1 Tablespoon sea salt (I used course sea salt)
1/2 Tablespoon coconut oil 
1 drop Chamomile Essential Oil * You can replace with lavender oil if you don't have Chamomile. 
Add all ingredients to a bowl and mix together with a spoon. 
Scrub all over your hands over a towel. Rinse or wipe off and immediately apply a body butter or lotion.
Brown Sugar Facial Scrub
1/2 Tablespoon brown sugar 
1/2 teaspoon avocado oil * can use olive or coconut too
1 drop Lavender oil 
Add all ingredients to a bowl and mix together with a spoon. Apply to cleansed skin and rub for a few minutes, remove with sponges, hands or wash cloths. Follow up with toner, serums and moisturizer/oil.
I hope you are all hanging in there, I am thinking of you.